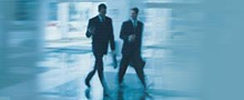 Your best resource for independent, expert information and advice
Electronic Document Management and Imaging

"Electronic Document Management Fundamentals"
I. The Business Case for Electronic Document Management

a. Electronic Document Management (EDM) defined
b. Common examples of EDM employed in the workplace
c. Benefits of EDM

II. Needs Assessment & Analysis

a. Identifying needs and setting priorities
b. Calculation ROI

III. Software Analysis

a. Indexing & Retrieval
b. Review of important software features
c. Matching software to your needs
d. Ancillary software and multiple vendors

IV. Hardware Considerations

a. Scanners & scanning features
b. Dual monitors
c. Remote access considerations
d. In-house vs. ASP
e. Calculating disk storage requirements
f. Backup alternatives
g. Avoiding system overload

V. Vendor Evaluation & Selection

a. Creating the RFP (Request for Proposal)
b. How to evaluate vendors
c.What to watch out for

VI. Implementation Plan

a. Steps in implementation
b. The Planning Document
c. How to get user "buy in"
d. Training
e. Phased implementation approach
f. Day forward approach or backfile conversion
g. Legal considerations

VII. Pitfalls to Avoid

a. Planning for and overcoming user reluctance
b. Maintaining a Safety Net
c. Feedback and Improvement

VIII. Summary


________________________________
©
Copyright 2004 - 2010 by Training Resources, LLC. All rights reserved.