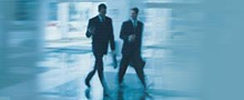 Your best resource for independent, expert information and advice
Electronic Document Management and Imaging
In today's environment of viruses, worms, bots, spam et al, most browsers have various mechanisms for screening out potentially bad content. Unfortunely, this also frequently blocks good content from being displayed.
Our lessons are wriiten in Flash and your browser will not open this type of content automatically. Instead, when you launch the lesson you will see a message similar to the one shown below displayed at the top of your browser window ...

To continue, you will need to click anywhere in or on the yellow text message line.
Important!
Please read the instructions below before launching your first lesson.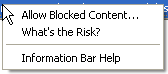 When you do you will see this message
.

Click "Allow Blocked Content"
Select Yes and the lesson will begin.
Lessons Page
You will get another warning prompt.
Instructions (
You probably already know this)
___________________________________________________________
©
Copyright 2004 - 2010 by Training Resources, LLC. All rights reserved.